#realchicbride Alyssa in Berta Tells Us Her Love Story

When we saw the beautiful photos of Alyssa Lattizori's wedding we knew we had to chat with her to hear a bit more about it! Luckily, she was happy to spill all the details about how she planned the wedding (by herself!), her love store and how she picked her perfect dress at Chic Parisien (a Berta!).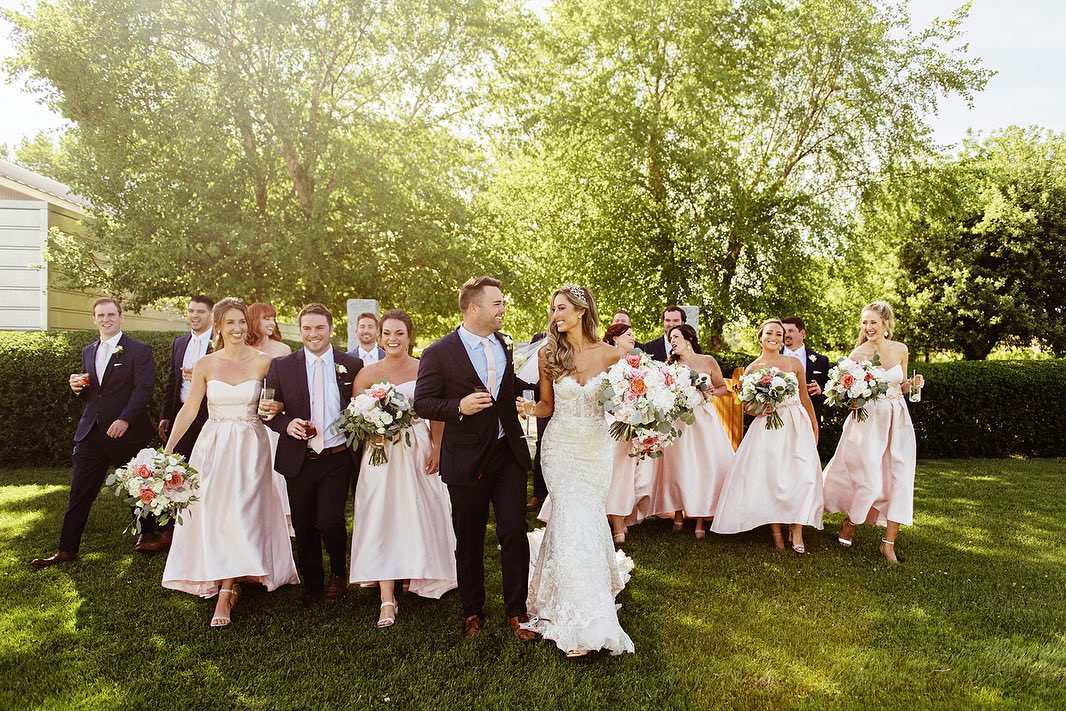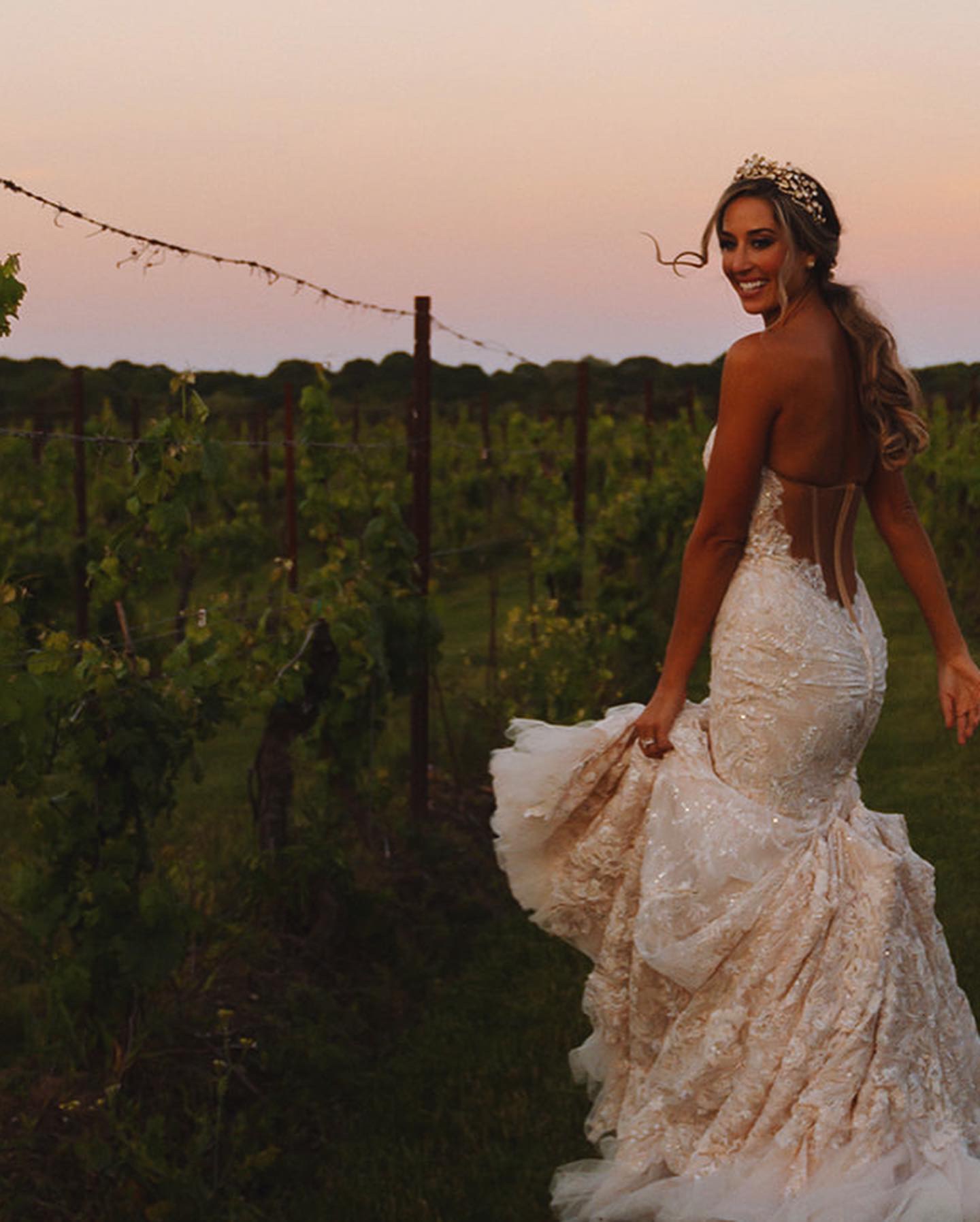 Tell us your love story! How did you meet? What was your journey to the proposal?
July 2015, I talked to a psychic who was highly recommended from friends. She told me that at the end of August, I was going to meet my soulmate and he would be THE ONE. She said he'd have dark hair and hazel green eyes, live in the same state but not the same city and would be in the same industry as me but different facets of it. She told me that work would mutually bring us to the same place maybe a convention of sorts, but we wouldn't meet at work - we'd meet at a social event affiliated with work. She told me to make sure I said 'yes' to everything and if I didn't meet him by fall that means I missed my chance.
August 31, 2015 I was at a Real Estate convention and saw this handsome man across the way! My girlfriend Jenna said, 'go say hi!' I was too nervous, and said 'If I'm supposed to meet him, I will." After dinner that night, saying 'yes' to grabbing one last drink at the hotel bar, Will happened to be there. We met, and the rest is history! I couldn't sleep that night and I texted my best friend Katie at 5:30am, "I think I met my soulmate the psychic was telling me about" Go figure, he also lived in Florida, had dark hair and hazel eyes and was in Commercial Real Estate while I'm in Residential. I still have the actual recording, all the other details she got right is pretty wild!
We talked about getting married 3 months after we met. Will proposed about a year later! We knew we were getting a puppy January 2018 but couldn't decide on a name. We both liked Rosie but Will was convinced we couldn't name her until we met her and made sure the name suited her. Dec 22, 2017 - Will came back from a work trip and told me last minute that his parents were coming down to visit that night before we left on a super early flight the next day to visit my family for Christmas. Assuming we both agreed our 10 day trip would be our gift to each other, I was surprised when he handed me a thin flat box, which he said "was just a little something." I opened it to find a new red dog color with a dog tag attached. Thinking how thoughtful it was he agreed to calling her Rosie and got her name engraved on the tag, I flipped it over and to my surprise I saw, "Marry Me" instead! I turned around to find him down on one knee. Of course I said yes! Even better we got to celebrate with his family that night and then mine in Connecticut!
When you started planning your wedding what did you envision? How close did the actual wedding get to that vision?
I envisioned soft blush colors with pops of gold and navy accents. Super sweet, girly and classic. I just kept thinking blush, blush, blush. Thankfully I had some major rock star vendors and day-of coordinators that helped to make my vision a reality! Wouldn't have changed a thing.
What were a few things that were important to you as a couple to include (or not include) in the wedding?
Will is not a dancer, so he was actually the one who decided we take dancing lessons and do a choreographed dance! He claimed that if we were going to dance in front of a bunch of people he wanted to at least look like he knew what he was doing and make it more interesting than swaying back and forth. It was a blast learning ballroom together!
I've always loved starfish and keep them in the front windows of our house. I wanted to incorporate them in a classic way, so we actually handmade all 135 starfish napkin rings! Loved having that little touch.
How did you decide on the location?
I was born and raised in a sleepy little seaside town outside of Mystic, CT. I've lived in Florida for about 8 years and it was so important to me to have the wedding where I grew up! It is SO beautiful in Connecticut (and definitely not as hot as FL!) So I am happy that Will agreed we could have it there.
Let's talk dress! Give us all the deets!
Funny story about my dress! I've been OBSESSED with Berta gowns but wasn't totally sure what style I would end up wearing. Last minute, I saw that Berta was having a trunk show in Miami, and since my Mom was out of town and all my bridesmaids live out of state, I asked another good friend to just come with me so I could see the dresses and at least narrow down what shape I'd want to wear.
Go figure, about 5 dresses in, I try on THE dress. Bethany and I looked at each other and started to tear up. It was definitely my dress. BUT I was so upset my Mom wasn't with me! Being a pageant girl growing up, dress shopping was always something my Mom and I enjoyed doing together, never mind the fact that this was a once in a lifetime chance to try on wedding dresses!! Barbette at Chic Parisien was so sweet and said if I put a deposit down she would still honor the trunk show discount if I could get my Mom in there the next weekend. Thankfully it work out, and I was able to have her, Will's mom and sister there with me the next weekend, which we all agreed was THE dress, thankfully!
How did your family, friends, etc play into your wedding planning and wedding day?
Since I was so clear on the vision of the wedding, I just dove in and did it all myself! A blessing and a curse. After managing all the vendors on my own, it was just too hard to delegate because I knew exactly what was already taken care of and what still needed to be done. I made sure to run everything by Will and the few times he spoke up and said a solid NO, I made sure to listen.
I utilized our families for tackling my DIY projects and basically was Etsy's number one customer for all custom signage and little details. It's amazing what you can find on the internet!
What's one specific memory you have from your wedding day that you don't think you'll ever forget.
At first I think - how I had dreamed about the moment I went to walk down the aisle for years and years. Literally envisioned ever little detail of it. Nora Jones, Come Away With Me, starts to play, when she starts singing in the song would be the moment I stepped out, everyone would stand.. etc etc. Well... didn't end up happening the way I had envisioned haha! My Brother and I step out after the bridal party walks, ready for my big moment anddddd the music doesn't play. We stood their awkwardly - wondering, do we just go?? Should we wait?? What felt like an eternity passed, and thank goodness the music finally played. BUT two steps in and... I feel my head tug back! Dying, I realized my veil had wrapped around the tent post in the wind. With the help of whoever was standing around, we freed the fabric and off I went. Everyone had a good laugh, including myself and I was on my way to Will finally. Needless to say, things played out differently than what I already dreamed of!
Otherwise, it really was just the coolest feeling having all our closest friends and family together in one place with us. The love, energy and laughs that weekend is something I will absolutely never forget!!
How did you decide on your hair and makeup look?
I have super thick curly hair and I have been a slave to it my whole life! I envisioned my hair down with soft glam waves for the ceremony and so I would't get too hot wanted to pull it back for the reception! Thankfully my friend Shelby who did my hair was willing to stay and change it for me which I'm happy we did! Will came to the bridal suite with me and it was a nice quiet moment to have with him while she did my hair. Our caterer was so awesome and brought up an appetizer sampler since we missed cocktail hour so it was a nice 10 minutes before the madness!
Was there one vendor you used that you wish everyone knew about?
All of our vendors were wonderful! I don't think I could pick just one. If I could give any advice to planning brides, I'd say that communication is EVERYTHING! Even if there is a vendor you feel like you "have to have" but they don't respond in a timely manner or just disappear, trust me its not worth it! Stick with people you can trust and go out of their way to answer questions. When it's down to the wire you want people in your circle that communicate and are on top of everything. Any vendor I had to hound to get a response from I cut out immediately and found someone else, thankfully finding wonderful vendors was a life saver when I was super stressed closer to go time.
Where did you go on your honeymoon and what was the best part?
We did a honeymoon fund as part of our registry! I'm so glad we did because we are blessed with a beautiful home and have everything we couple possibly need already but had never gone on a big vacation just the two of us. We splurged on two stops, one incredible boutique hotel called The Other Side in Eleuthera, and another called The Bahama House on Harbor Island, both in the Bahamas. It was so nice to slow down and just spend quality time together. Both places that we stayed at were super low key and quiet. My favorite night was at TOS, where dinner is served in a "tent" that has open doors by the eater and a set menu and time for dinner. One night, we happened to be the only ones there! We could hear the ocean, dinner was fabulous, we had a bottle of champagne, music played on a record player and we slow danced together barefoot after dinner. I will never forget that moment!